What is Hi-Fi Sound
Sophisticated concept: Low-JITTER crystal oscillator, advanced DAC master clock architecture, fully symmetrical circuit design……
Particular selection of materials: 25-ppm temperature drift, 1/1000 precision, SUSUMU being the resistor provider (a prestigious brand in the Hi-Fi world).
In addition, the device has Panasonic 0805 film capacitor, and a headphone amplifier that imposes no restriction on cut-off frequency. All these features show only the tip of an iceberg. With an MX4 Pro in your palm, you'll find out what Hi-Fi Sound really means.
ES9018K2M · World Advanced DAC Sound
One of the challenges we faced was how to allow users to hear the fine nuances found in different musical genres, while reducing back ground noise and faithfully reproducing sounds. The answer was to use world advanced components such as the ES9018K2M DAC audio processor with a signal to noise ratio of up to 114dB and a dynamic range of up to 123dB. The beat goes on with the MX4 Pro!
An Innovative Passive Filter with Whole Symmetrical Structure
For audiophiles, or any music lover, high precision and high fidelity are characteristics to be embraced. For Meizu this was another chance to think outside the box and allowed us to introduce a new passive filter technology. The MX4 Pro uses two film capacitors and several high-precision and low-temperature-drift resistors to remove the background noise. Electrical currents don't interfere with the signals, ensuring they remain pure with unwanted noise amplification.
Digital noise
OPA1612
Super-high
Resolution Amplifier
State of the art, studio quality audio components use OPA1612 professional operational amplifiers, so does the MX4 Pro! This use of such high-end audio components is an unprecedented achievement, one MX4 Pro owners will love to hear. If you need the figures then the OPA1612's common mode rejection ratio (CMRR) is extremely stable at 120dB under 80KHz, which is much higher than 20KHz, and far higher than the maximum frequency of 20KHz audible to human ears.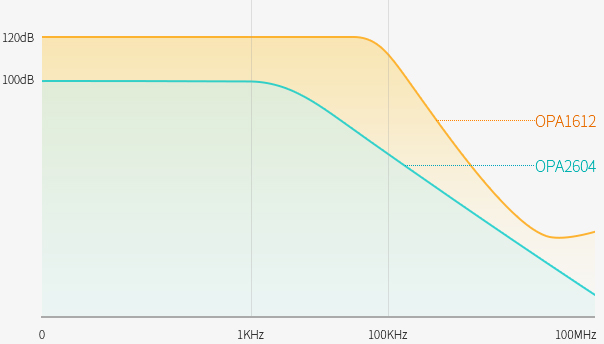 CMRR comparison between OPA1612 and OPA2604
Source: Texas Instruments
High/Low Gain
Big beautiful sound can be enjoyed though a range of different earphones and headphones, but they are not made equal and can change the listening experience. To ensure the best, most enjoyable, audio performance the MX4 Pro can automatically select the correct settings based on your headphone choice. Built-in protection also means you can't accidentally overload your eardrums, plus manual control options allow you to enhance audio the way you like.